Storage Sheds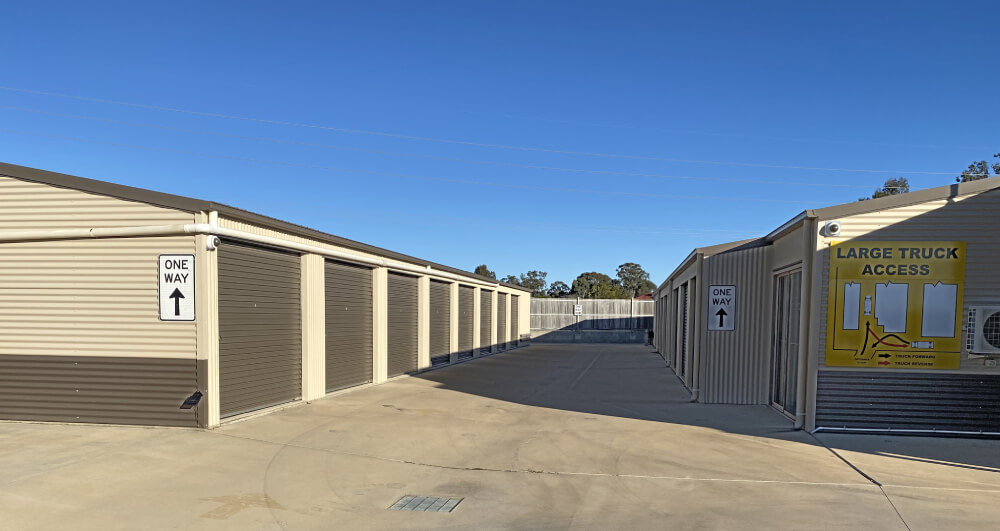 Large Shed – $42.00 per week
Shed dimensions: 6m x 3m
Door dimensions: 2.1m high x 2.4m wide
Our large sheds are ideal for storing goods and furniture from a 3 or 4 bedroom home – you can also store a car in this size shed.
Some of our large sheds are higher, with 2.4m high doors – these higher sheds can have a mezzanine floor added by arrangement with management; please contact us to discuss your needs.
Other Shed Sizes
| Shed Dimensions | Price |
| --- | --- |
| 6m x 2.5m | $39.00 / wk |
| 4m x 3m | $37.00 / wk |
| 3m x 3.5m | $34.00 / wk |
| 3m x 3m | $31.00 / wk |
| 3m x 2m | $25.00 / wk |
Which size shed should I get?
Please contact our friendly staff for assistance with determining the best size space for your storage needs!
How do your prices compare?
We can happily assure you that we are the best value in Warwick! Our storage prices are around a third of what you'd pay for storage in a metropolitan storage facility. For longer-term storage, you will find that a huge saving can be made!
If you have sold your home and are going on an extended adventure, consider Betta Warwick Storage for your storage needs!
How do I sign up?
To begin storing with Betta Warwick Storage, contact the friendly office staff at Wade Real Estate (our managing agents).
They are situated at 96A Palmerin Street, Warwick QLD 4370. You will need to call into their office to complete the necessary paperwork. Don't forget to bring some ID with you!
If you're not sure how much storage you need, the office staff will help you select the right shed for your needs.
Boxes and Packaging Materials
Item
Price
Tea Chest box
$6.00
½ Tea Chest box
$4.50
Archive box
$6.00
Wine / Book box
(holds 5/6 bottles)
$2.00
Porta-robe
(with metal hanger)
$20.00
5m x 1.5m Bubble Wrap
(bulk quantities can be ordered)
$20.00
50 sheets Butchers Paper
$10.00
75m roll Packing Tape
$4.00
Tape Dispenser
$28.00
45mm Brass and Stainless Steel Locks
$16.00