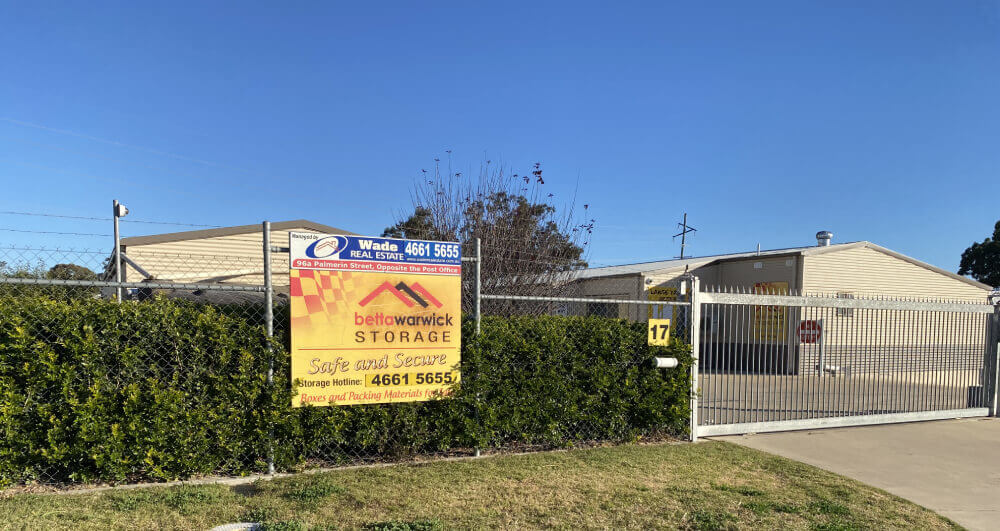 About Betta Warwick Storage
Betta Warwick Storage is Warwick's newest storage facility, offering high quality storage sheds in a secure environment. Betta Warwick Storage is managed by Wade Real Estate.
Where Are We?
You can find the storage facility at 17 Betta Place, Warwick QLD 4370
We're just off Cunningham Highway and Ogilvie Road – turn off at Black Toyota.
Contact Us
We'd love to discuss your storage needs – please visit our Contact Us page to get in touch!
Real Estate in Warwick
Betta Warwick Storage is proudly managed by Wade Real Estate – the real estate specialist for Warwick and surrounds. For all of your real estate needs in Warwick, contact Wade Real Estate at admin@nullwaderealestate.com.au or call 07 4661 5655.
Accommodation in Warwick
Moving to Warwick and between homes? We can help with short term accommodation!
Accommodation Warwick Queensland offers several homes, a cottage, and a 2 bedroom unit, to suit your needs. Check out our website to give you an idea of what we have on offer!